Acquiring the finest coffee beans, blending and roasting them to perfection, sealed together with their freshness and aroma, is a process that people involved seriously with coffee know not to deviate from. Accepting that the coffee capsule is rightfully here to stay, we choose to encapsulate our top quality coffees into Nespresso®* compatible capsules… as the only way to bringing the barista experience to your fingertip! Our product (coffee as well as capsule) is created to meet consumer's desired taste habits, be it at home, at the office or at your favourite coffee shop. Verace (Mostra Di Cafe's coffee capsule brand) can be translated as truthful, genuine, or real and these capsules are exactly that: truthfully top quality coffee, packed in functional and well designed capsules, offering genuine and real coffee pleasure.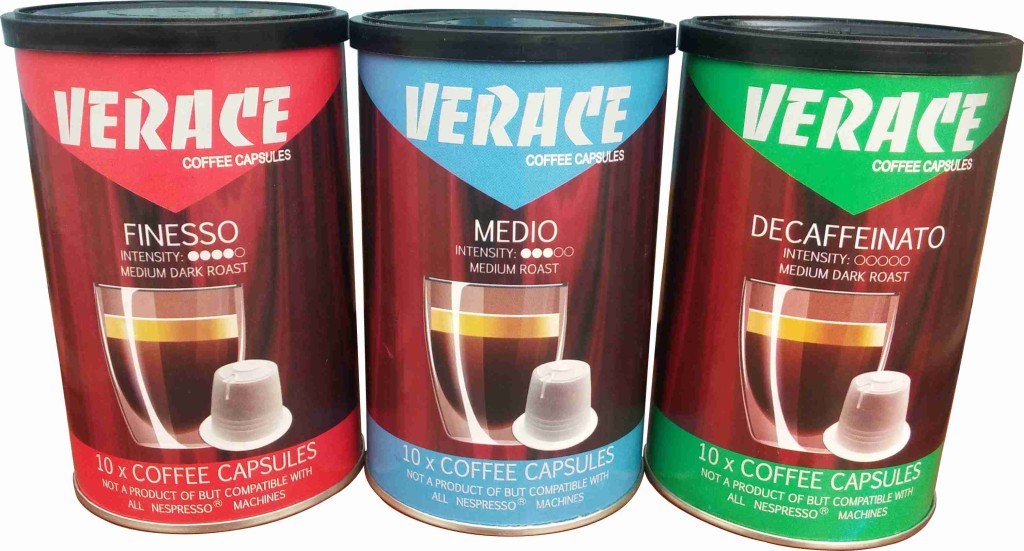 FINESSO – INTENSITY 4/5 – TASTE: Fruity, acidy & bitter – AROMA: Deep & amplified – COFFEE ORIGIN: South, Central America & Africa
This coffee blend is of highest quality, made with passion and absolute obsession towards the creation of the ultimate coffee sensation that coffee connoisseurs want. An espresso coffee blend that encapsulates decades of experience in coffee blending and roasting.
MEDIO – INTENSITY: 3/5 – TASTE: Flowery, fruity & sweet – AROMA: Mild & round – COFFEE ORIGIN: South America & Africa
An aromatic – full body coffee blend, made for the coffee drinker who enjoys mild palate sensations.
DECAFFEINATO – INTENSITY: 0/5 – TASTE: Fruity & slightly sweet – AROMA: Gentle & round – COFFEE ORIGIN: South America & Africa
An elegant and balanced coffee blend, full of aroma & flavour. Designed for the coffee drinker who enjoys coffee but could do without the caffeine.
Are Verace capsules compatible with my Nespresso®* machine?
Yes. Our coffee capsules fit and function perfectly with all Nespresso®* capsule machines.
Could Verace capsules harm my machine in any way?
Our capsules are "push open" capsules. The term "push open" means that the special pins at the back of the machine's capsule chamber simply push and not pierce the back of the capsule, opening up three small flaps, allowing the water to go through the capsule. In this way the machine's mechanism as well as the performance of the capsule itself does not get compromised or damaged in any way.
Many coffee capsule manufacturers have produced (and some of them still do) coffee capsules that compromise the beauty and greatness of single serve coffee capsules in many ways. We have spent a great deal of time in researching and choosing the ideal coffee capsule. We have performed extensive tests on many capsule models before choosing this perfect functioning capsule that we offer you today.
Is the warranty on my Nespresso®* machine valid even if I use Verace capsules?
Yes. Be 100% confident that the warranty of your machine does not depend on the capsules you choose to use and that the manufacturer has to honour it.
The material Verace capsules are made out of can harm my health in any way?
Our capsules are made out of food approved soft plastic, sealed by a thin layer of food approved foil.
How fresh is the coffee within the Verace capsule?
Our coffee is roasted, ground and packed the same day. Oxygen is removed from the capsule prior to sealing. Oxygen is also removed from the composite can that contains the capsules – the composite can consists of tin top & bottom lids & walling made out of compressed recycled paper board – a unique, innovative, fully recyclable, biodegradable and modern way of packing consumables.
How long can I store my capsules?
Although each of our capsules, as well as the packaging we use is completely free of oxygen, we recommend you to use them within 12 months after the manufacturing date ("best before" date is always visible on packaging).
Where are your capsules made?
Most of the components used in manufacturing the Verace capsules & packaging as well as the whole manufacturing process (coffee roasting, grinding and packing) is done in Johannesburg – South Africa.
Would you suggest that I use filtered water instead of tap water with my machine?
The quality of the water plays a major role in the quality of the coffee. Additionally, using filtered water will prolong the time in between the de-scaling sessions you need to do on your machine.
How often do I need to de-scale my machine?
This depends on the usage of your machine, but we are of the opinion that de-scaling is required after about 500 extractions. Keep your machine clean (the coffee chamber by running water through, without a capsule every now and then. Do not let the tray fill up with used capsules. Avoid de-scaling your machine using vinegar & water but rather use a proper de-scaling solution.
Do you offer Nespresso®* compatible machines?
We believe that the machines offered by Nespresso®* are of great quality and with a proven track record of reliability and functionality. Since our capsules are compatible with all models and since we do not have the need to deviate our customer towards machines that only function or function best with our capsules, we do not presently offer or ever intend to offer single-serve capsule coffee machines in the future.
*Visit our Facebook page for further information, images & videos.