Forza #2 – 5 TYPES OF 100% ARABICA COFFEE IN ONE BLEND
Taste: Fruity, Sweet & Smooth
Aroma: Deep & Amplified softened by chocolate notes
Coffee Origin: A selection of 100% Arabica coffee beans from South, Central America & Africa.
Intensity: 8/10
A well balanced coffee bean blend of high quality. Long lasting flavour, intense aroma & velvety crema. A coffee blend that is designed for the coffee drinker who prefers a less intense approach to coffee, but still seeks perfection in coffee taste. A slow, medium-dark roast velvety coffee bean blend. A gentle blend that often makes imported Italian coffee drinkers wonder why it took them so long to discover it. Very popular amongst female coffee drinkers as well as people with sensitivity towards products containing caffeine!
Master blender's notes:
Every coffee drinker – sooner or later – will develop the desire to discover the coffee that can be enjoyed on its own, without milk or sugar added in the cup and Forza #2 coffee blend is Mostra's attempt to deliver just that. Creating such blend, one needs to resort in a selection of coffees – nearly all of them with similar characteristics but with different domineering tones to each other – all of them gentle in acidity.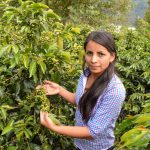 This coffee journey's 1st element was coffee produced within the region of Calle – a step away from the breath taking Soberania National Park – within Honduras (Growing Altitude: 1350 to 2000 meters / Variety: Arabica Cattura, Typica, Pacas & Bourbon / Milling Process: Fully washed).
With malic acidity & extremely light dried fruit notes already in the cup, the next step would be seeking elements of brightness and distinct tones of acidity. Sidama region – Ethiopia was the 2nd coffee of choice (Growing Altitude: 1700 to 2200 meters / Variety: Arabica Kurume / Milling Process: Washed).
The 3rd coffee used in this blend had to contribute body to the mix…but in a gentle – not over powering – way. Coffee from an area close to Sipi falls and on the western slopes of Mt. Elgon in Uganda does just that. (Growing Altitude: 1300 to 2200 meters / Variety: Arabica Typica / Milling Process: Fully washed).
When it comes to gentle sugar & caramel notes within a coffee cup, one is always bound to consider the presence of Brazilian coffee and this is exactly the 4th coffee of choice forming Forza #2 blend (Growing Altitude: 800 to 1350 meters / Variety: Arabica Catuai / Milling Process: Dry).
Finally, a touch of a coffee that is conquered by toasty walnut hints, gentle but stable body & clear after taste – the last element in this blend – was a specific coffee from Guatemala (Growing Altitude: 1600 to 1700 meters / Variety: Arabica Caturra / Milling Process: Wet).